Welcome to Melbourne's Best & Most Reliable Electrician Service
We are here to help you with any electrical issue if you're situated in a large number of Melbourne's suburbs including Armadale, Brighton, Dandenong or Frankston Melbourne – from residential to industrial electrical issues, just give us a call.
Please also have a look at our Service Areas page for the full list of suburbs we service!
Contact us below to get in touch & receive immediate help with your electrical issues!
Andrew's service was perfect. Truthworthy, reliable, professional and great value. Have already reccomended him to family and friends and would highly suggest his services. It's hard to find a great tradie sometimes and glad to have used Easton Electrical - definitely my go to electrician from now on.
Menachem Aron
18 April 2021
Great company, friendly service!
Vicky Nagy
3 September 2018
Fantastic work from Andrew and Sean- on time, excellent and quick work today. Andrew came to do the quote on the day I spoke to him and arrived exactly when he said he would. Very friendly and offered great solutions to our issues. Also lovely to have a tradie who didn't speak to me in a condescending manner because I'm a woman- really appreciated that, thank you! Highly recommend and would definitely call again!
Meera Ladha
8 February 2018
Andrew and his team were really lovely to deal with from the start. They were able to carry out electrical works at our office on our tight schedule and everything was done on time. I would highly recommend!
Rachael Saade
17 January 2018
I have been using Easton Bell Electrical for 10 years now. They are fantastic electricians, always professional, on time and reasonably priced. I never call any other electricians!
Fantastic electricians. Andrew swept in with his sidekick like a kind of super hero and went above and beyond the call to solve all my problems without fuss or extra charge. I highly recommend Easton Bell Electrical.
Chris Mayr
30 September 2013
Could not ask for better service. The guys from Easton Bell Electrical were polite, professional and efficient. The guys arrived on time for both appointments and the job was done exactly to my requirements without any hassles. Highly recommended.
Why Choose Us as your Melbourne Electricians?
If you require top-quality work from experienced, responsible and conscientious electricians in Melbourne CBD, South East Melbourne, Frankston & Armadale or anywhere in the greater region, contact Easton Electrical. Our electrical services in Melbourne are second-to-none, based on many years of combined experience and our commitment to professionalism and quality workmanship. We understand urgent matters and work over weekends if needed.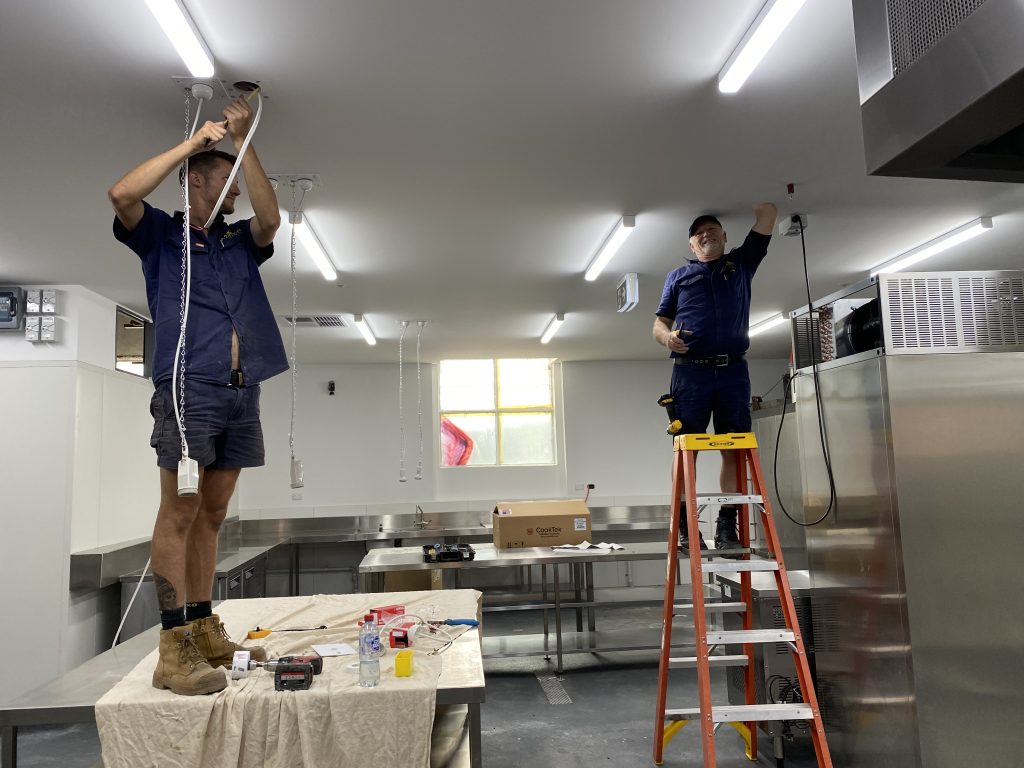 Call us now for help with your Electricity, no matter if you're a business or a residence!
Make an appointment today Instantly
Our Melbourne Electrical Services Include:
Downlight Safety Inspections
Downlight safety is an important topic as safety regulators across Australia have concerns about fires caused by heat from recessed lighting setting fire to building material as they were originally designed to create heat instead of light. They are therefore more likely to create a fire than LED downlights, which run warm, not hot.
Industrial Electrical Contractors to help with your Electricity needs
More than simply sparkies for jobs around the house, we can repair and maintain your business's electrical equipment efficiently and to the highest possible standard.
Emergency Electrician in Melbourne
In need of an emergency electrician in Melbourne? You're in luck! Easton Electrical is Melbourne's number one emergency electrician. We are available 24 hours a day, seven days a week for every sudden occurrence you encounter in your home or workplace.
Smoke Alarms Checks Melbourne
There wouldn't be a home or apartment in Victoria that doesn't have at least one smoke alarm. Did you know that it is now the law that all new homes must have hard-wired smoke alarms? It is beneficial to ensure that these smoke alarms work! So get us to check for you anytime!
We Service All Of Melbourne for your Electrical Needs!